Devops Course Training in Hyderabad
DevOps Course training in Hyderabad includes DevOps life cycle management and CI/CD DevOps pipeline. The DevOps course training in Hyderabad will prepare you with the automation, coding, scripting, collaboration, communication and DevOps tools. DevOps Training in Hyderabad will also train you with the culture to provide the fastest delivery of software to the market with a lot of other benefits. You will have a fast-paced career with some of the hot DevOps tools such as Git, Jenkins, Docker, Shell Scripting, Ansible, Terraform, Kubernetes, Nagios, JIRA, Pythone Automation and Maven Build Tool.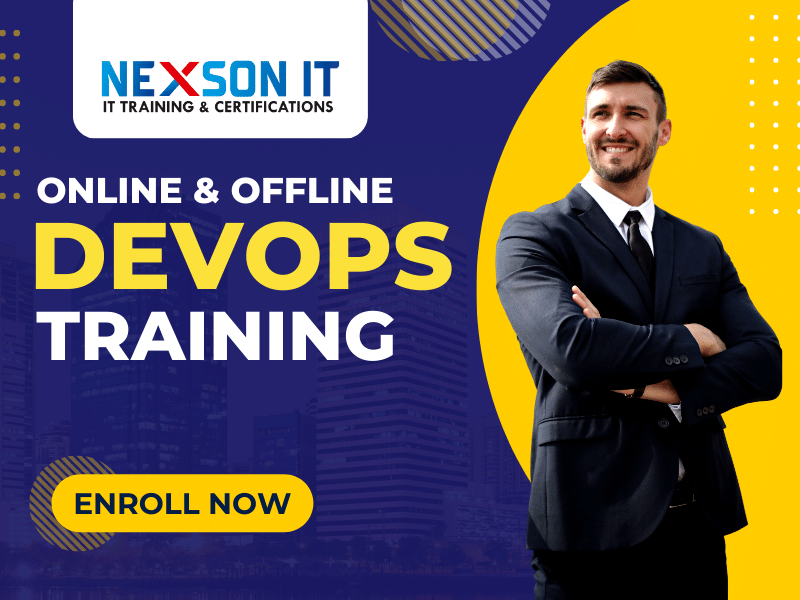 Best DevOps course Training Institute in Hyderabad
Best DevOps Course Training Institute
Are you looking for the best DevOps Course Training Institute then your in the right place to update yourself with the latest trends in technology with Nexson IT. Learn DevOps Training by Real-Time Experts. Enrol now to get Practice using DevOps tools in a real environment with live cloud Projects.
DevOps course content is designed from basics to advanced levels. We have a team of DevOps experts who are working professionals with hands-on real-time DevOps projects knowledge, which will give students an edge over other Training Institutes.
DevOps is a combination of software development and IT operations. This DevOps training program at Nexson IT Academy aims at giving you a better understanding of the fundamentals of all DevOps tools which comprise Git, Ansible, Jenkins, Puppet, Kubernetes, Nagios and Kubernetes and extensive training methods. The DevOps course is suitable for professionals as well as beginners and helps to improve their abilities and knowledge in DevOps. Nexson IT Academy offers the finest DevOps courses in Hyderabad with highly qualified and certified instructors with a wealth of experience over several years. The course is tailored to meet the requirements of the industry using the most current and accurate training methods. We adhere to and implement projects-based learning to improve the knowledge of our students. At the end of the course, you'll gain a thorough understanding of the continuous integration process, virtualization, and configuration management that cover a variety of areas of development software as well as operation together with the DevOps course completion certificate. We also provide job assistance.
Career Growth for a DevOps Engineer
DevOps engineers are among the highest paid IT professionals today. Organizations that adopted DevOps practices are exhibiting high performance with rapid growth. This has led to many other organizations globally trying to choose the same method. According to the Puppetlabs state of DevOps report, companies who have taken the DevOps philosophy are able to deploy their code up to 30 times more frequently than their competitors.
The report also says that there are 50% fewer chances of code failure. The job search portal indeed.com has witnessed a 75% increase in the listings for DevOps jobs. On the other hand, on linkedin, there has been a 50% increase in the mention of DevOps as a skill.
Other Cities: 
• Bangalore  • Hyderabad  • Pune • Mumbai  • Chennai  • Gurgaon  • Noida  • Delhi
• Kolkata  • Trivandrum  • Ahmedabad • Vadodara  • Pimpri  • Navi Mumbai  • Ghaziabad  • Kochi  • Thane  • Coimbatore • Indore  • Jaipur  • Mysore  • Nagpur  • Dombivli
• Bhubaneswar  • Gandhinagar • Visakhapatnam  • Surat  • Faridabad • Chandigarh
• Patna