Advanced MS Excel Training
Microsoft Excel is one of the most widely used software applications for managing data and performing calculations. Whether you are a student, working professional, or business owner, proficiency in Excel is essential to boost your productivity and efficiency. Advanced MS Excel Training in Hyderabad by Nexson IT Academy is the perfect opportunity to learn Excel and improve your skills.
Nexson IT Academy is a leading training institute in Hyderabad that offers industry-relevant courses to individuals and organizations. With its team of experienced trainers and cutting-edge infrastructure, Nexson IT Academy ensures that its students receive the best training and resources to excel in their careers. In this article, we will explore why Advanced MS Excel Training in Hyderabad by Nexson IT Academy is the ideal choice for anyone looking to master Excel.
Benefits of Advanced MS Excel Training
Expert Trainers: The trainers at Nexson IT Academy are highly experienced and knowledgeable in Excel. They are experts in their field and possess the necessary skills to impart knowledge and train students effectively.
Comprehensive Curriculum: The Advanced MS Excel Training course at Nexson IT Academy covers all aspects of Excel, from the basics to advanced features. The course is designed to provide a thorough understanding of Excel and its applications in various industries.
Hands-on Experience: At Nexson IT Academy, students are given hands-on experience in using Excel. This ensures that they are able to apply the concepts learned in real-world scenarios and gain practical experience.
Individual Attention: Nexson IT Academy believes in providing individual attention to each student. The class size is kept small to ensure that every student receives personalized attention from the trainers.
Career Growth: Excel is an essential tool in various industries, including finance, accounting, data analysis, and more. By mastering Excel through Advanced MS Excel Training in Hyderabad by Nexson IT Academy, students can improve their job prospects and accelerate their career growth.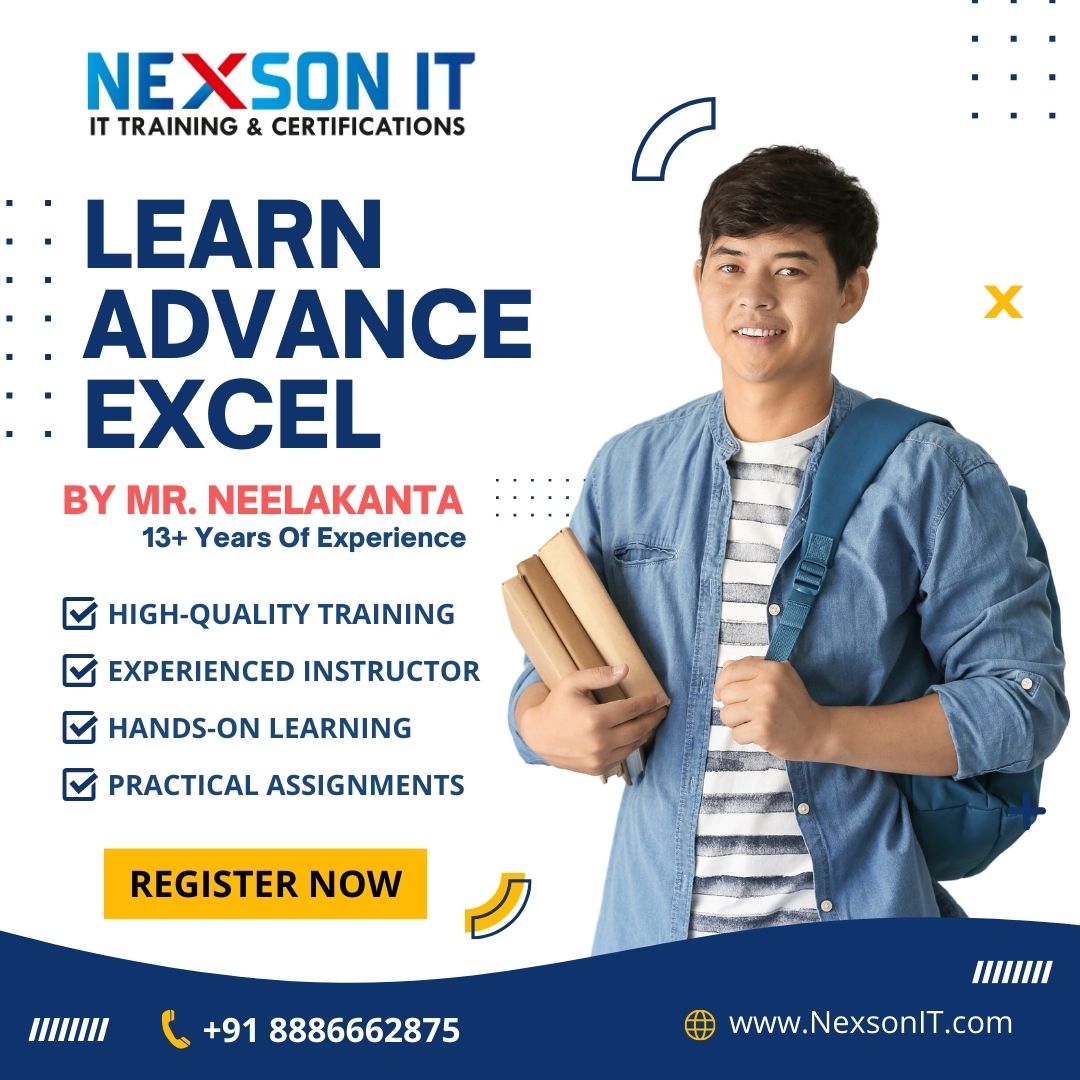 Advanced MS Excel Course Content
The Advanced MS Excel Training course at Nexson IT Academy covers the following topics:
Module 1: Overview of Excel Basics
Introduction of Microsoft Excel

Fill Handle and Edit Custom lists.

Customizing common options in Excel

Absolute and relative cells
Module 2: Working with Basic and Advanced Formulas / Functions
Basic Formulas (Sum, Max, Min, Large, Small)

Dynamic / Array basic formulas

Analytic Formulas

Logical Formulas

Lookup and reference functions (VLOOKUP, HLOOKUP, MATCH, INDEX)

User-defined functions – Vlookup with Trim, Max, Min, Large, Small

Nested Vlookup / Hlookup with Exact Match

Index and Match Combined functions with Max, Min, Large, Small, and Trim

Types of Cell References
Module 3: Working with Ribbons / Tabs
Home (Clipboard, Font, Paragraph, Styles, Editing)

Insert (Tables, Illustrations, Shapes, Add-ins, Headers & Footers)

Page Layout (Page Setup, Print Preview, Fit to page)

Formulas (Function Library, Name Range, Formula Auditing, Calculation)

Data (Get & Transform Data, Queries, Data Types, Text to columns)

View (Workbook Views, Freeze Panes, Macros)
Module 4: Data Validation
Specifying a valid range of values for a cell

Specifying a list of valid values for a cell
Module 5: Sorting and Filtering Data
Sorting tables

Using multiple-level sorting

Using custom sorting

Using advanced filter options
Module 6: Working Pivot Tables
Creating Pivot tables

Formatting and customizing Pivot tables

Using advanced options of Pivot tables

Pivot charts

Creating Slicers (Version 2010 & Above)
Module 7: Formatting
Conditional Formatting, Format Cells, Format Tables

Themes, Format Painter
Module 8: Charts / Visualized Presentations
Column Charts

Line Charts

Pie & 3D Charts

Pivot Charts

Advanced Charts – Sparklines (Line, Column, Win/Loss)
Module 9: More Functions
Date formulas (Today, Now, Datedif various models)

Power Formulas (Countif, Countifs, Sumif, Sumifs, Averageifs)

Text Formulas (Left, Right, Mid, Concatenate, Concat, Textjoin, Text)
Module 10: Shortcuts
Control Shortcuts

Contextual Shortcuts

Ribbon / Tab & Dialog box Shortcuts

180+ Frequently used shortcuts with their functions
Module 11: Working with Macros
Understanding Macros

Create Macros

Introduction to VBA

Editing Macros
Module 12: Paste Specials
Paste All, Formulas, Protecting data

Transposing Data, Paste as values
Module 13: Working with Table
Creating and Editing Tables

Banded Rows & Columns

Total Rows with formulas, Converting data to range
Module 14: New Features of Excel
Flash Fill, New Formulas, Maps..

Overview of all the new features and more..
Why Nexson IT is Best
For advanced Excel

Training Institute in Hyderabad?
Training by DevOps Experts
To guarantee a top-notch learning experience and quality content, we offer Adv Excel training in Hyderabad with instructors who are industry experts and have over a decade of experience.
100% Practical-Oriented
DevOps demands consistent practice, giving you the opportunity to work with real projects and tools such as Git, Jenkin, and Kubernetes for hands-on exposure and experience.
Regular Assessments
Regular assessments in advanced Excel courses help learners track their progress, identify areas for improvement, and receive feedback from instructors to develop their skills and confidence.
Placement Assistance
Our advanced Excel course includes placement assistance to help learners find job opportunities. We provide job search resources, connect learners with potential employers, and offer resume and interview preparation support.
Rigorous Classroom Training
This Advanced Excel in Hyderabad is delivered in a traditional classroom setting with a fully digital, distraction-free environment, providing a direct and interactive experience with the instructor.
Completion Certificate
Learners who complete our advanced Excel course receive a certificate verifying their proficiency in using advanced Excel functions and formulas. The certificate can help advance their career opportunities.
What Learners Say About Our
Advanced Excel Course

!
We take pride in having positively impacted the career foundations of thousands of learners across India and Asian nations.
I was already familiar with the basics of Excel, but this course really helped me take my skills to the next level. The instructor was knowledgeable and provided clear explanations of more advanced features like macros and pivot tables. I feel much more confident using Excel in my job now.
Prem Kumar – Student
I was hesitant to take online training, but this one exceeded my expectations. The live Classes were engaging and informative, and the online discussion Whatsapp groups allowed me to connect with other learners and share tips and strategies. I feel like I got a lot out of this course and would definitely recommend it to others.
Veeda- Student
I have taken other Excel courses before, but this one was by far the most comprehensive and challenging. The exercises were challenging but manageable, and the instructor provided detailed feedback on our work. I feel like I really mastered some advanced Excel techniques thanks to this course.
Uday – Student