SOC ANALYST TRAINING IN HYDERABAD
Are you looking for the Best SOC Analyst Training in Hyderabad (Security Operations Center), Look no further than Nexson IT Academy. We offer both offline and online training programs that are tailored to meet your specific needs and help you excel in the field of cybersecurity.
Course Overview:
Duration: 12 Weeks
Mode: In-Person & Online
Prerequisites: Basic IT Knowledge.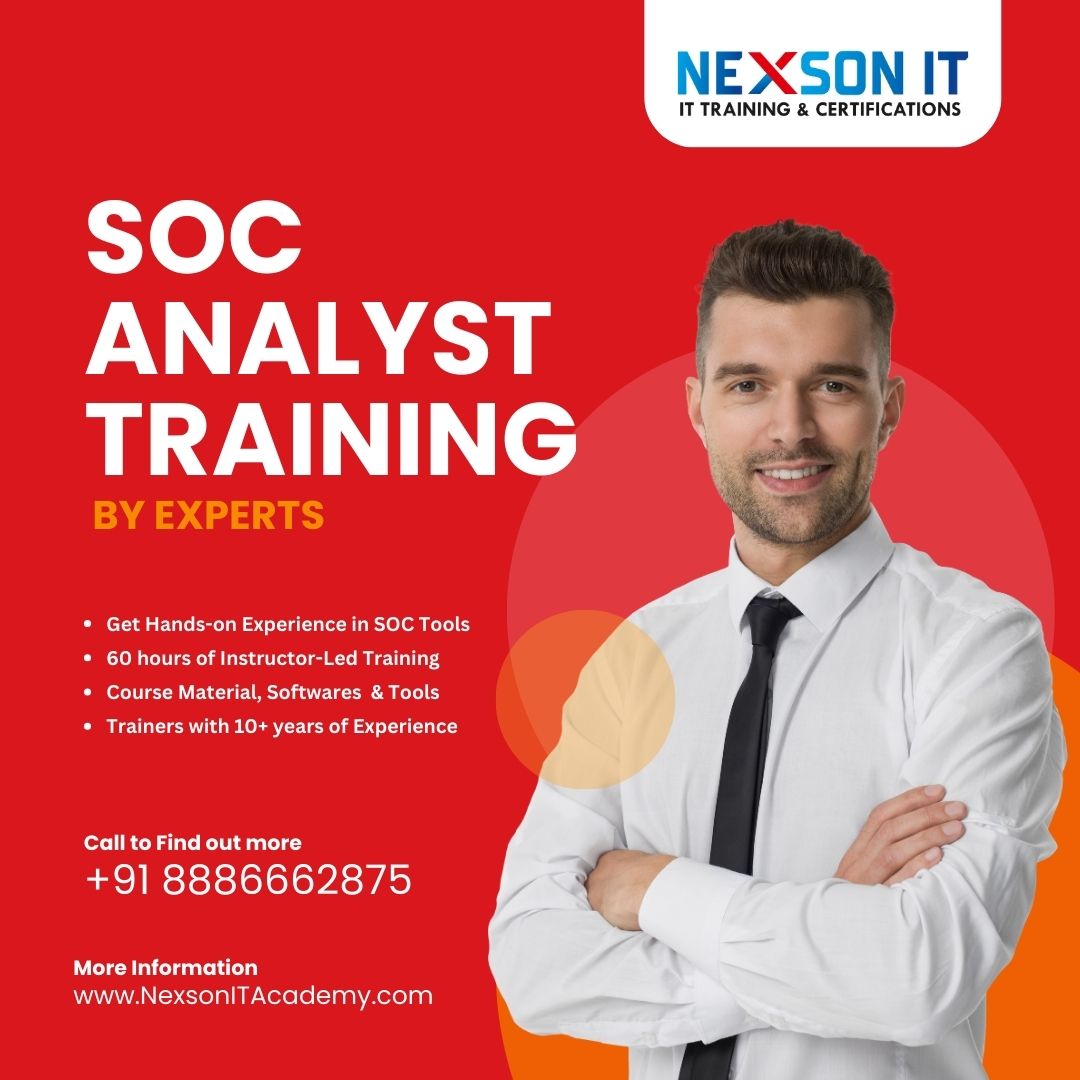 Best SOC Training Institute in Hyderabad
SOC Analyst Online Training Course in Hyderabad
Nexson IT Academy presents an online and offline SOC Analyst Training Course in Hyderabad, designed to equip participants with a comprehensive understanding of various tools and technologies essential for identifying, analyzing, and reporting cyber threats. In today's digital landscape, cybercriminals employ diverse techniques to breach computer systems, making it imperative to have trained analysts responsible for safeguarding security operations.
SOC, which stands for Security Operations Center, represents both the department and the team of cybersecurity professionals tasked with continuously monitoring a company's network and information systems for real-time cyberattacks and incidents. In the event of such incidents, these professionals work diligently to ensure minimal impact and cost-effective remediation. As online work continues to rise, the role of SOC analysts becomes increasingly crucial in preserving the integrity of digital environments.
Best SOC Training Institute in Hyderabad
SOC Analyst Training Course in Hyderabad
A SOC, or Security Operations Center, is the central hub within an organization dedicated to cybersecurity. It encompasses both a specialized department and a team of cybersecurity professionals who work around the clock, 24/7, to monitor the company's network and information systems. Their primary objective is to detect and respond to cyberattacks and security incidents in real-time.
In the event of any suspicious activity or potential security threat, the SOC team is responsible for taking immediate action or promptly reporting the incident to the relevant teams for further investigation and mitigation. If a security breach has already occurred, the SOC team, including SOC Analysts, works diligently to minimize its impact. Their goal is to ensure that the compromise has the least possible adverse effect, thereby reducing the overall cost associated with remediation efforts. In essence, a SOC plays a pivotal role in safeguarding an organization's digital assets and maintaining its cybersecurity posture.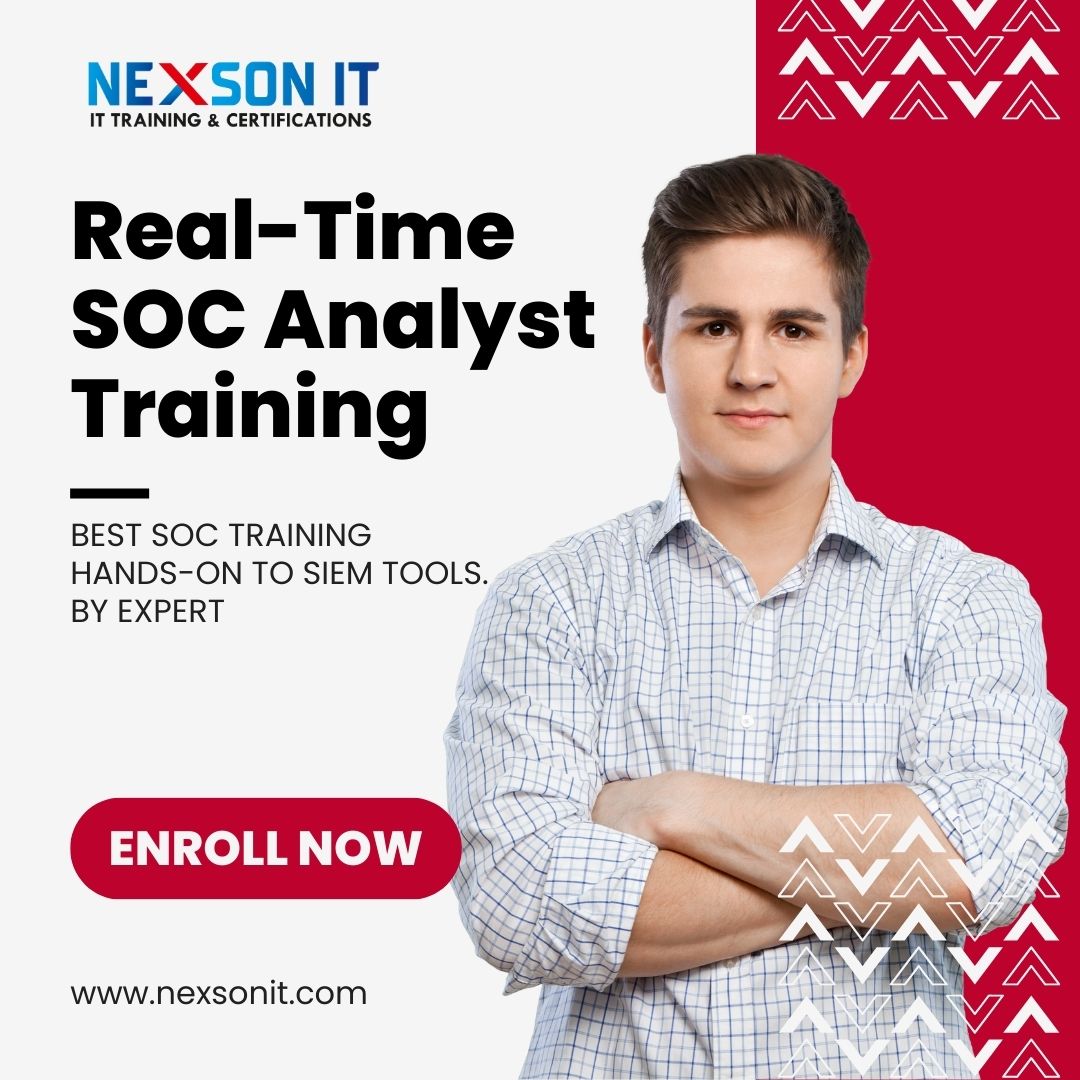 Nexson IT Academy presents its SOC Analyst Course in Hyderabad, featuring both offline training in Hyderabad and live interactive training accessible worldwide. Our primary objective is to equip candidates with a profound understanding of SOC operations, ensuring a hands-on learning experience that includes practical exposure to essential tools. Even when you join our virtual platform, you'll immerse yourself in a highly interactive lab environment that mirrors the physical training experience.
Key Features:
Benefit from the guidance of industry experts with over 12 years of experience
Live Sessions: Engage in real-time interactive sessions to enhance your learning.
Session Recordings: Access session recordings after every practical session to reinforce your knowledge.
Online Course Materials: Gain access to comprehensive online course materials for reference.
Access to Premium Tools: Enjoy access to essential tools like Arcsight and Splunk to support your learning journey.
At Nexson IT Academy, we are committed to providing a dynamic and immersive learning experience, ensuring that candidates are well-prepared to excel in the role of a SOC Analyst.
Who can apply for the SOC Analyst Course?
SOC Analyst Course in Hyderabad is open to a wide range of candidates, including:
Freshers: Individuals who are new to the field, regardless of their educational background, and are eager to kickstart their career in cybersecurity.
Recent graduates: Recent graduates from both IT and non-IT backgrounds who are interested in pursuing a career in cybersecurity.
Experienced Professionals: Professionals from various backgrounds who are looking to make a career transition into the field of cybersecurity.
Cybersecurity Practitioners: Those already working in Cyber Security who aim to expand their expertise specifically in SIEM (Security Information and Event Management) and SOC (Security Operations Center).
Network and Security Administrators: Professionals responsible for managing and maintaining network and security systems.
Network and Security Engineers: Individuals involved in designing, implementing, and managing network and security infrastructure.
Desktop Engineers: Professionals responsible for desktop and endpoint system management.
This SOC course is designed to cater to a diverse audience, providing valuable knowledge and skills to those at various stages of their career journey in the field of cybersecurity.
What are the job profiles for SOC Analyst Course Certified?
SOC Analyst (Level 1)
SOC Analyst (Level 2)
SOC Analyst (Level 3)
Senior Security Analyst
Cyber Security Analyst
Senior Engineer
Security Engineer
Application Security Engineer
Cybersecurity Consultant
SOC Manager
 security operations center (SOC) Course Content:
Windows:
Windows Event viewer, Different categories of logs review

Kerboros, LDAP, NTFS, NetBIOS Protocols, and functioning

Process, PID, PPID

Windows commands, comparison with Linux commands

Wincollect, Syslog, MSRPC, Active directory, Office 365 logs.
Linux:
Introduction to Linux

Files and Directories Management

User and Group Administration

Permissions

Process Management

Disk Partitioning and Mounting File System

Data Backup and Recovery

NFS Server

SFTP

Commands
Network:
Fundamentals (OSI Layer, TCP Header, Ports, Protocols)

Network Access

LAN Switching Technologies

WAN Technologies

IP Addressing IPv4 and IPv6

Easy Subnetting

IP Connectivity

Describe the Routing Concepts

Routing Technologies

Describe IP Services

Security Fundamentals

NAT Technologies
Cybersecurity Concepts:
Introduction to Ethical Hacking, Ethics, and Legality

Gathering Target Information: Reconnaissance, Footprinting, and Social Engineering

Gathering Network and Host Information: Scanning and Enumeration

System Hacking: Password Cracking, Escalating Privileges, and Hiding Files

Trojans, Backdoors, Viruses, and Worms

Gathering Data from Networks: Sniffers

Denial of Service and Session Hijacking

Web Hacking: Google, Web Servers, Web Application Vulnerabilities, and Web-Based

Password Cracking Techniques

Attacking Applications: SQL Injection and Buffer Overflows

Wireless Network Hacking

Physical Site Security

Hacking Linux Systems

Bypassing Network Security: Evading IDSs, Honeypots, and Firewalls

Cryptography

Performing a Penetration Test
Below Tools Covered Real-Time Class
SIEM: Qradar, Splunk, Exabeam

EDR: Crowdsrtike, carbon black, Fireeye Trellix

Email Gateway: Proofpoint, Cisco iron port

VA: Nessus

AV: Mcafee EPO

VM: Qualys, Rapid 7

DLP: Zscaler, Forcepoint

DDOS: Radware

WAF: F5, Cisco

IPS: Cisco firepower, Fireeye APT

Ticketing: BMC Remedy, Service now

Kali Linux